(NOTE: currently this site is just an Archive for the 2011 NWPermaculture.com site contents. You may encounter missing images on some pages, as it would take an effort to update each and every image to the PermacultureOrganics.com URL required to update all images which previously had a NWPermaculture.com address.)
---
Join us for the 2012 Northwest Permaculture Convergence
October 5-7, 2012
Thank you for a memorable and inspiring 2011 NW Permaculture Convergence!  This site will continue to be updated as a permaculture resource. Submit your 2011 photos, look up upcoming design courses and stay connected.
---
2012 Northern California Permaculture Convention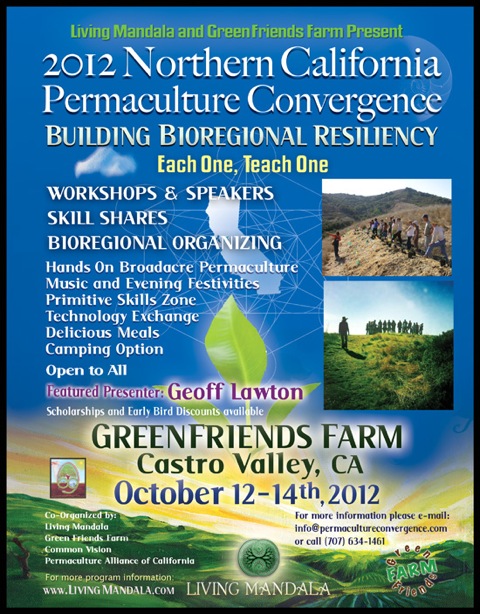 The NorCal Permaculture Convergence (formerly the Bay Area Regional Permaculture Convergence) is an annual event which brings together permaculture designers, sustainability enthusiasts, and communities in Northern California, the West Coast, and beyond. We gather for a weekend intensive focuing on a common goal: to design sustainable habitats, in accordance with nature, for humans, plants, animals, our greater bioregion, and the Earth at large. This year we are pleased to have Permaculture expert Geoff Lawton as the keynote speaker.
Practitioners across a wide-spectrum of skill-sets will exchange ideas through concurrent workshops and discussions. Events range from organic agriculture and wildcrafting to natural building and appropriate use of technologies; from environmental remediation and disaster preparedness to community dynamics and global justice. In addition to a plethora of workshops and amazing speakers on a diversity of topics, there will also dedicated areas for skills sharing, collaborative discussions, children's activities, educational displays, and specialist vendors. Participants will have opportunities to socialize, network, and connect with others in this field through meals and the activities listed above.
Check out the great YouTube video "Greening the Desert". Geoff talks about an incredible food forest project in the Sinai Desert near the Dead Sea. Hardly any rainfall, temperatures well over 100, insects 10 acres featuring 1 1/2 kilometers of on-contour swales (for passive water management) heavily mulched with local organic mulch, nitrogen fixing plants and fruit trees… Within four months they had abundant food in this Food Forest and desalination of the soil! See this amazing regreening of the middle East as an example of how to fix the world's groundwater polution and salination problems.
For more information on the Convergence Program Click Here.